On June 24, the United States Supreme Court overturned the constitutional right to abortion, which had been enshrined in its 1973 Roe v. Wade decision, clearing the way for states to impose bans and restrictions on reproductive care. The ruling, which decides the case (PDF) of Dobbs v. Jackson Women's Health Organization, will curtail abortion access for tens of millions of women. In addition to endangering women's lives (PDF), Dobbs and subsequent state bans on abortion will undermine women's economic opportunity and security, with Black women likely experiencing the greatest harm.
Led by Black women, the reproductive justice movement has always framed abortion access as an issue of economic justice (PDF). The stakes are high for Black women, who undertake abortions at five times the rate of white women and have three times the maternal mortality rate. The poverty rate among Black women is more than double that of white women, and research shows women who are denied abortions are more likely to fall into poverty and experience substantial financial distress compared with women who have them.
In addition to economic inequities, Black women face disparities in access to health care and birth control. The bleak history of state control over Black women's fertility and discrimination in health care settings has also undermined Black women's trust and use of reliable contraception. Policies such as the Hyde Amendment, which prohibits the use of Medicaid to pay for abortions, disproportionately affect women of color (PDF), denying them access to abortion covered by medical insurance.
Reproductive choice enables women to gain a stronger footing in the workforce, improving lifetime earnings and occupational outcomes. Research shows these effects are particularly strong for Black women who have access to abortion services. A growing body of evidence, shown in the table below, examines the impact of abortion access on women's socioeconomic and labor market outcomes, with many studies applying empirical approaches that estimate the causal effect of abortion access and use on different dimensions of women's lives. Across the board, the results find tangible effects on income, employment, occupational advancement, educational attainment, and poverty.
The evidence shows Black women have experienced greater economic gains from abortion access compared with white women, indicating reproductive choice contributes to the closing of long-standing economic inequities across both gender and race. Research indicates reproductive health services shape women's economic outcomes by strengthening labor force attachment and supporting educational attainment.
In both cases, the effects of abortion access are especially powerful for Black women. By expanding women's capacity to reduce unintended pregnancies, particularly among young women and teenagers, abortion has been found to facilitate increases in work experience and improvements in school completion. These outcomes then expand access to higher-paying occupations and help reduce material hardship.
Structural racism and residential and occupational segregation create disparities in poverty rates, access to contraception, and paid family leave (PDF), leaving Black women and other women of color particularly vulnerable to the financial and economic ramifications of unintended pregnancy. Abortion access alleviates these vulnerabilities by enhancing family planning capabilities and giving women more control over their fertility, facilitating their ability to invest in both education and work. For example, in a pair of recent studies, researchers look at the effects of abortion access expansions in the 1970s, finding these changes expanded economic opportunity and enabled improved labor market and educational outcomes for women, particularly Black women.
In a 2021 paper (PDF), Kelly Jones of American University estimates the effects of young women gaining access to abortion between the 1960s and 1980s, controlling for the coinciding proliferation of contraception. Jones investigates a range of outcomes including employment, income, occupational advancement, and poverty, focusing on results occuring later in life. The paper estimates the direct impacts for women who use abortion as well as the broader effects for women overall. The results show widespread positive outcomes, with particularly large effects for Black women. "Across all outcomes and specifications," Jones writes, abortion access "has a large and statistically significant impact on Black women's future economic welfare."
In a 2020 paper, Ali Abboud of the Ohio State University examines variation in pre-Roe state-level abortion legalization laws, estimating the effects on the earnings and occupations of young women who accessed abortion to prevent unintended motherhood and delay the birth of their first child by one year. Hourly wages among all women who accessed an abortion were 11 percent higher than average by the time they reached middle age, with Black women experiencing even stronger gains of 13 percent. Black women using abortion to avoid unplanned pregnancy also achieved substantially greater advancement in occupational status, putting them at an "equal occupational level as the average working white woman," Abboud finds.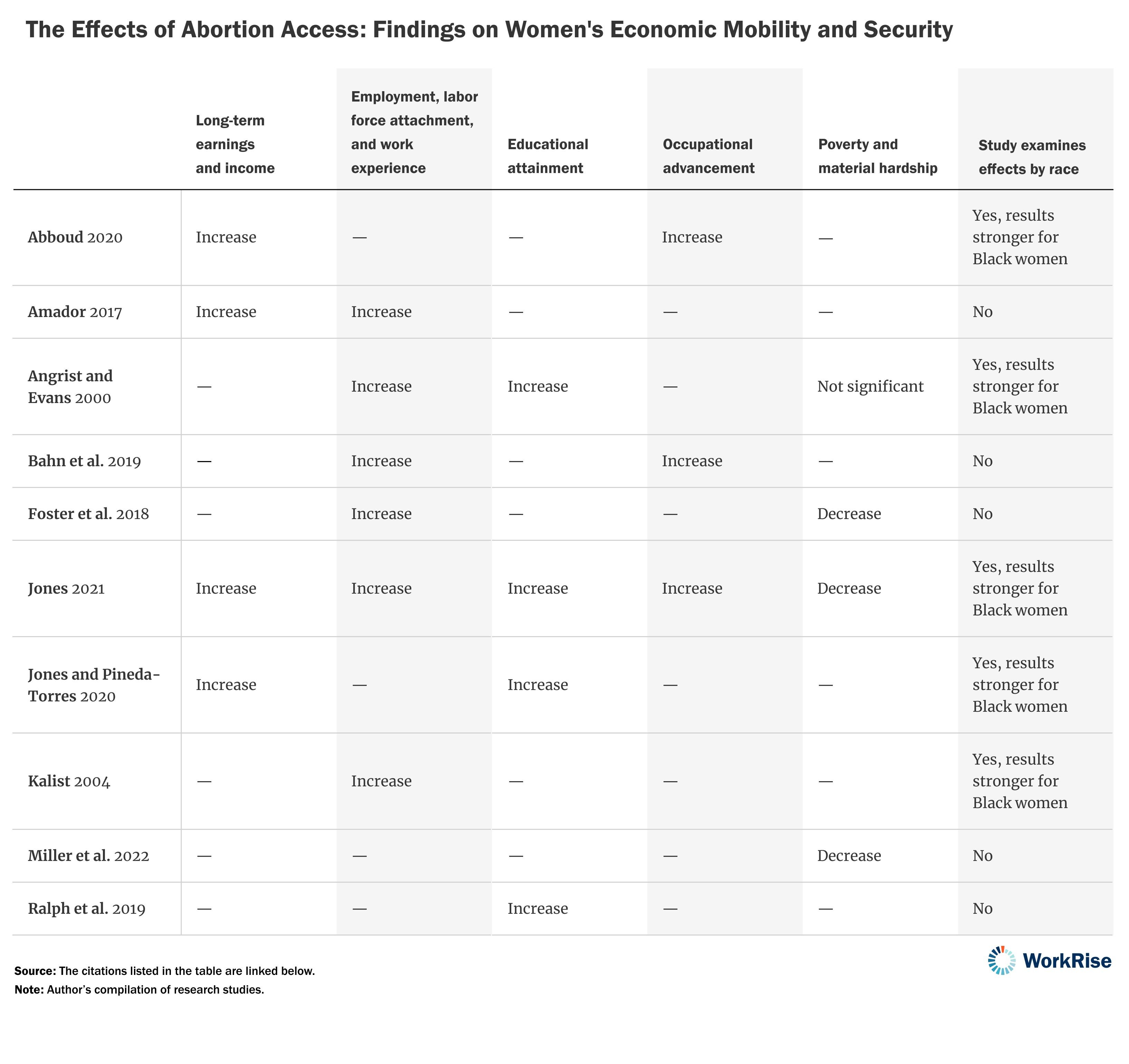 The overturning of Roe jeopardizes these advances, threatening economic setbacks for women across the country. Ten states banned abortion immediately after Roe was struck down, and five states are expected to impose prohibitions and restrictions in the coming weeks. In all, limitations and bans are anticipated in as many as 28 states. More than half of reproductive-age women in the United States—nearly 34 million women in total—live in areas where abortion access is at risk, including a disproportionately large share of Black women.
These restrictions will have wide-reaching consequences for women's economic mobility and security. Evidence indicates the implications are most stark for Black women, who are acutely exposed to financial instability and health risks when abortion bans and other limitations are in place.
Black women experience less access to contraception and seek abortions at higher rates relative to white women, yet economic inequities will leave them less able to overcome restrictions. Black women carrying pregnancies, in turn, face heightened pregnancy discrimination in the workplace, and those living in states with the most restrictive abortion laws will be left without guaranteed paid family leave.
Just as Black women experienced strong gains in economic opportunity from the expansion of abortion access, research shows they will be the most harmed by bans and strict limitations that follow the Dobbs decision.
---
Note: In this post, we use the term "women" to align with the data sources referenced, but we acknowledge not all people who seek abortion identify as women.
Further Reading
Ali Abboud, "The Impact of Early Fertility Shocks on Women's Fertility and Labor Market Outcomes," 2020
Diego Amador, "The Consequences of Abortion and Contraception Policies on Young Women's Reproductive Choices, Schooling and Labor Supply," 2017
Joshua Angrist and William N. Evans, "Schooling and Labor Market Consequences of the 1970 State Abortion Reforms," 2000
Kate Bahn, Adriana Kugler, Melissa Holly Mahoney, and Annie McGrew, "Do US TRAP Laws Trap Women into Bad Jobs?," 2019
Diana Greene Foster, M. Antonia Biggs, Lauren Ralph, Caitlin Gerdts, Sarah Roberts, and M. Maria Glymour, "Socioeconomic Outcomes of Women Who Receive and Women Who Are Denied Wanted Abortions in the United States," 2018
Kelly Jones, "At a Crossroads: The Impact of Abortion Access on Future Economic Outcomes" (PDF), 2021
Kelly Jones and Mayra Pineda-Torres, "Targeted Regulations on Abortion Providers: Impacts on Women's Education and Future Income" (PDF), 2020
David E. Kalist, "Abortion and Female Labor Force Participation: Evidence prior to Roe v. Wade," 2004
Sarah Miller, Laura R. Wherry, and Diana Greene Foster, "The Economic Consequences of Being Denied an Abortion," 2022
Lauren Ralph, Jane Mauldon, M. Antonia Biggs, and Diana Greene Foster, "A Prospective Cohort Study of the Effect of Receiving versus Being Denied an Abortion on Educational Attainment," 2019